REGISTRATION IS NOW CLOSED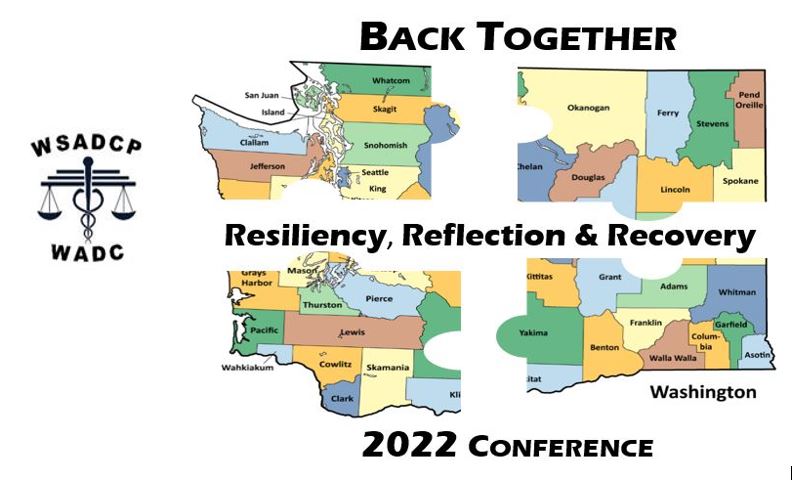 ---
Thank you for your interest in the Washington State Association of Drug Court Professionals (WSADCP) Fall 2022 Conference.
In partnership with the Washington State Health Care Authority, Administrative Office of the Courts, and the National Drug Court Institute, we are excited to offer:
2 full days of presentations for all therapeutic courts
30+ sessions
Subjects include: Best Practices, Substance Use Disorders, Recovery Support, Addressing Trauma, and Behavior Modification
Topics applicable to all types of therapeutic courts
Up to 5 CEU credits Thursday and up to 6.25 CEU credits Friday
Up to 10 hours of CLE or CJE credits available
Keynote Speaker: Chief Justice Steven C. González (pre-recorded message)
In-person and virtual attendance options
20+ speakers (national and local)
Keynote Speaker
Chief Justice Steven C. González is Washington State Supreme Court's 58th Chief Justice. Chief Justice is passionate about providing open access to the justice system for all. He chairs the Board of Judicial Administration (BJA) and COVID-19 Court Recovery Taskforce. He is a member of the Conference of Chief Justices and chairs the Court's Administrative, Budget, and Circulation Committees.
National Presenters
Alexis Balkey, MPA, RAS, is a Deputy Program Director at Children and Family Futures, Inc. (CFF) and works with the National Family Drug Court (FDC) Training and Technical Assistance (TTA) Program. Additionally, Ms. Balkey is a Change Leader for the Prevention and Family Recovery (PFR) initiative funded by the Duke Foundation Charitable Trust assisting jurisdictions to advance the capacity of their FDC's.
Honorable Alan Blankenship is an Associate Circuit Judge in Stone County, Missouri, serving in that position since January 2003. He is a member and chairman of the Missouri Supreme Court Committee for Treatment Courts and a member of the teaching faculty for the Missouri Supreme Court Trial Judge Education Committee, National Drug Court Institute, National Center for DWI Courts, and Justice For Vets.
Dr. Meghan R Fitzgerald, PhD., WA Family Treatment Court Training Coordinator, Administrative Office of the Courts. Meghan began her work with Family Treatment Courts at AOC in 2020. She is working on her final year of a clinical mental health counseling master's program.
Dr. John Gallagher, PhD., is a licensed clinical social worker, licensed clinical addiction counselor, and is an associate professor at Morgan State University School of Social Work, in Baltimore, Maryland. Dr. Gallagher is the lead researcher in numerous journal articles related to treatment courts, and his work has been cited in the NADCP's Adult Drug Court Best Practice Standards.
Dr. Christa Marshall, Psy.D., Marshall Psychological Services, LLC., is a clinical psychologist in private practice in Rochester, New York. She specializes in treating mood and anxiety disorders, posttraumatic stress disorder, and assessing and treating individuals adjusting to chronic illness and serious injury.
Scott Tirocchi, M.A., M.S., L.P.C., Major, U.S. Army (Retired) is a division director for Justice For Vets (JFV), a division of the National Association of Drug Court Professionals (NADCP). He is an experienced administrator and licensed therapist who had worked in the criminal justice and behavioral health fields for over 30 years, striving to impact individual and systemic change within community, hospital, correctional, and judicial settings.
Dr. Carlos Quezada-Gomez, Psy.D., is a licensed clinical psychologist administering mental health services in Cook County jail, serves as an appointed member of the Advisory Board for the Illinois Department of Corrections, and provides training, consultation, and technical assistance as a consultant for the National Drug Court Institute.
WSADCP is excited to offer both virtual and in-person attendance options
Thursday October 27, 2022 – Virtual or In-Person
8:30 a.m. – 4:45 p.m.
Friday October 28, 2022 – In-Person
8:30 a.m. – 4:30 p.m.
Registration
Thursday Virtual Only: $75
Both Days In-Person: $250
In addition to attending the conference, your registration includes membership in WSADCP. This will allow you to receive updates through the year regarding the latest on best practices, upcoming training events, and opportunities to get involved.
We look forward to seeing you as we get back together reflecting on participant recovery and team resiliency!
REGISTRATION IS CLOSED
If you have any questions about the WSADCP 2022 Annual Conference, please contact [email protected]
CONFERENCE VENUE

The 2022 WSADCP Annual Conference will be held at the DoubleTree Suites Southcenter in Seattle, WA. A limited number of overnight rooms are available for a discounted rate – book early for the best selection and price!
To learn more about hotel and travel information, click here
OUR EVENT SPONSORS
TITLE SPONSORS
GOLD SPONSORS
SILVER SPONSORS